ADEMCO VISTA ALARM SYSTEM PACK

Ademco Vista20P pack Includes 16 to 48 hybrid zone Alarm System Control, 1ea 6160V LCD Alpha Display Keypad with voice, 1ea easy hardwire Indoor Sounder, 1ea wireless 40ftx40ft passive infrared Motion Sensor, 4ea wireless Door/window Sensor transmitters, backup battery, Security Stickers. Now also includes Free 16 zone 6150RF series wireless receiver Keypad module
View Optional easy self install equipment purchase
5800 series Wireless sensor Transmitters, keypads
Hardwire Fire System Sensors Horns Strobes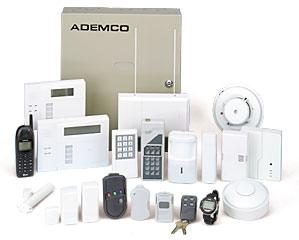 Price Includes six month free UL Alarm Central Station Monitoring with three year Residential Subscription at $15.00 per month or commercial Subscription at $17.00 per month billed annually in advance, one-year material warranty. Alarm Monitoring Service Contract, Security stickers Ademco Vista 20P features include up to 48 programable hybrid wireless or supervised wired zones of protection, 4ea custom configurable zone types, voice module capable, X10 device capable, Programable automation, User access, Scheduling, 100 event history log and paging capability.


---

---
---
System purchases include free shipment to US only


UL. Alarm System Monitoring A.S.I. Three Year subscription paid at the monthly rate of only $15.00 to $17.00.

---
ATLANTECH INGENUITY
asisecure@post.com
---